Epoxy resin is a product that has been applied on all types of floors in industry and the service sector in recent years. Most of us know this material as a floor covering, but the truth is that the excellent characteristics of Epoxy resin have led to it being used in other sectors, such as decoration.
In this article we look at one of the many applications of this excellent product in this sector. First of all, the Epoxy system has excellent optical properties and features for decorative applications in which transparency is an essential sector specification. This unbeatable optical property and zero shrinkage are invaluable for the use of this product in this sector.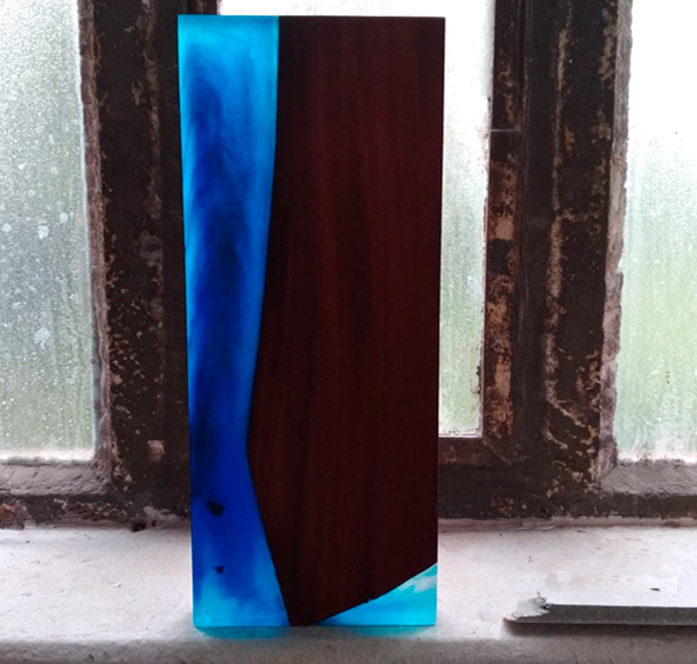 As an example of the application of this resin, we can look at some of the work by the company EBANISTERIA PARDAL, genuine craftsmen who have used a meticulous process to obtain magnificent pieces for decoration combined with their know-how to take the excellent decorative results of this product to new heights. The secret of the final finish is undoubtedly the preparation of the piece. Accordingly, Hidromar Epoxy (A+B) was used as a varnish to seal the wood completely. Once applied, the piece in question was allowed to dry between 8 and 12 hours before applying the EPOMAR GLASS AP resin using the casting method, where the mixture has to be completely transparent and smooth before use. Besides other important properties such as optimal wetness, flexibility and adhesion, this material is also efficient in terms of cleaning, thanks to the pleasant, smooth texture obtained after correct application.
A clear example of the correct application of the product with results that speak for themselves. At Omar Coatings, we are proud to be able to participate in other sectors, in this case, decoration, developing innovations and crossing borders in the creation of new products.