We have already highlighted the advantages of our OMARCRIL BRILLO product in previous publications. This varnish is a coating with a highly polishable shine of extraordinary quality, mainly used for home furniture, kitchen and bathroom finishes.
These characteristics were undoubtedly decisive for the luxurious Italian clothing brand, Armani (see the project), who are using this coating to update the design of their cosmetics store in New York.
Although we have already spoken about this product, we really want to emphasise its quality. While many of our customers have already seen it with their own eyes, there is nothing quite like an image to enable us to fully appreciate the high brightness and mirror effect.
As an example, consider a kitchen door with an integrated handle, with two coats of our Poliomar white basecoat 1000/7, finished with BLACK Omarcril BRILLO and polished after 48 hours (the standard process for a door of this type).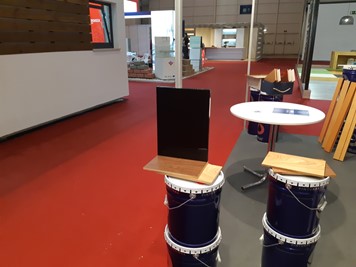 Once the door has been positioned on our containers, an initial photograph is taken that identifies the colour and position of the piece".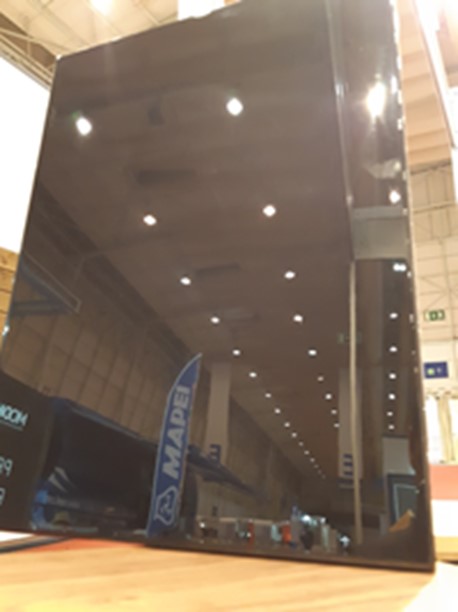 Subsequently, in a second image, taken from approximately one metre away, you can see the magnificent and sharp reflection it produces.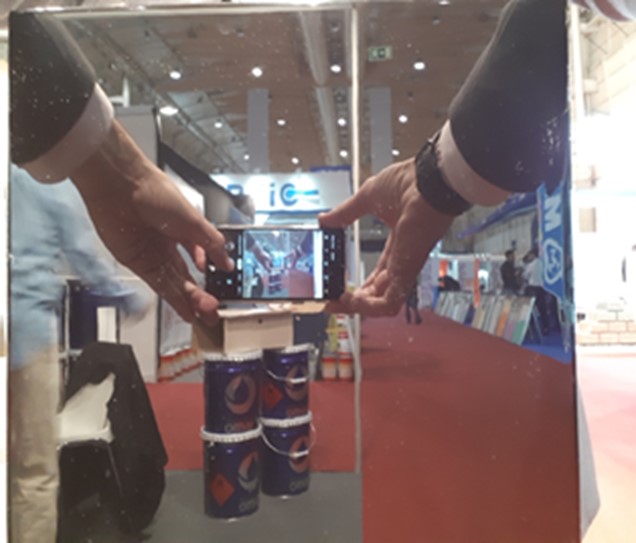 And finally, we position ourselves behind the same piece to take a "selfie", so we can clearly see the quality of the image and reflection, both up close on the telephone itself and the elements around it.
In these last two photos you can see pieces varnished with Omarcril Brillo in different colours. We have done this to demonstrate that this product, with its high level of brightness, is available in any colour tone that the customer may require.

This collection of photos provides a general impression of the characteristics of OMARCRIL BRILLO. But without a doubt, the best way to appreciate it fully is with a demonstration, and as such we would like to encourage anyone who wants to learn about the advantages of this product to request a demonstration, so that we can answer any potential questions.